I'm excited to announce that I've decided to do my first ever giveaway!! It's not too big, BUT, it's still fantastic! I'll be giving one lucky winner a $10 gift card to Target!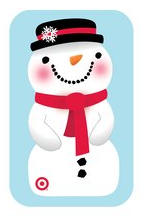 Hey, every little bit counts, right?! Also, that could be 10 items from Target's ever-so-fabulous dollar deals section 🙂 I will save my big giveaway for 100 followers… yikes, I have a long way to go! Anywho, here's how to enter (and each of these things counts for one entry):


1. Follow by blog!! And then leave me a comment telling me you follow 🙂
2. If you have a blog, add A Cupcake for the Teacher to your blog list… and leave a comment
3. If you have a blog, give me and my little giveaway a shout out!… and… you guessed it– leave a comment!!!


That is all.. I just want to make some bloggy friends, because you guys are super-duper terrific and YOU are the reason why I decided to make my own blog in the first place!


The contest will end in one week, on December 14th. The winner will be chosen randomly… Good luck!!