Each of us at Freebie-licious received a sweet, custom designed t-shirt!
I am *in love* with my custom t-shirt! Not only is it cute, it represents friendships, fun, and business relations all in one!
Where else could you get all that from just one t-shirt?! Here we all are, rockin' our new attire: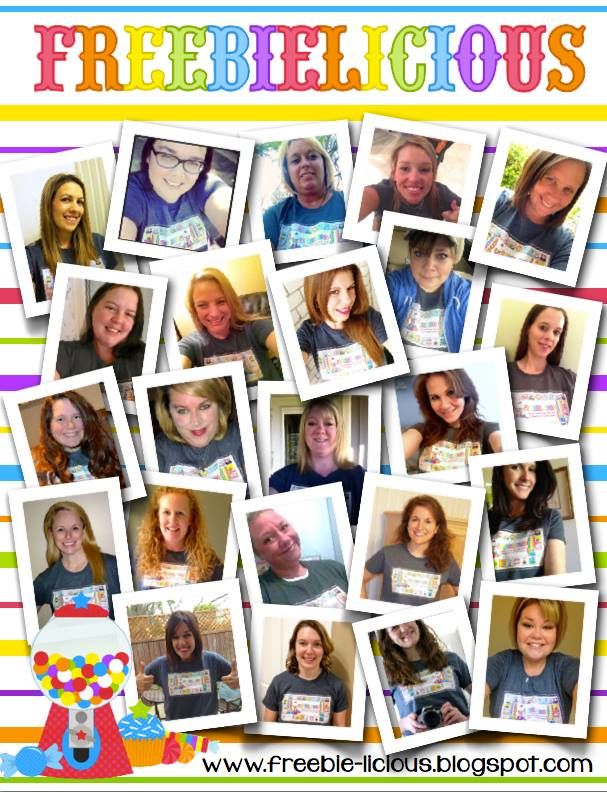 Now that we're dressed to impress, we are sharing the love and giving away t-shirts to 23 lucky winners!!! Each winner will get to choose one t-shirt, and the design is WINNER'S CHOICE!
Entering is super easy! It's a blog hop, so you will have almost 50 chances to win one of 23 t-shirts if you follow it all the way through. Of course, you can enter as many or as few giveaways as you would like. Use the Rafflecopter below for two chances to win from my blog… then hop on to the next, and the next, and…!! Keep going 'til your fingers are too tired to click! 🙂 🙂
The giveaway ends on Sunday, May 19th, at 12:00 a.m. EST. Winners will be announced on the following Monday. Easy peasy, lemon-squeezy!
If you don't win one of the giveaways, but you see a shirt that you just can't live without, don't worry! A+ Teacher Images is offering our Freebie-licious followers 20% off of orders $20 or more by using the code FREE20! Enjoy!!
Don't miss out on anymore freebies… follow our blog & like our Facebook page!!
A special thanks goes out to Doug from A+ Images. He worked with us to make just the right shirt to represent our company, and is still offering us a shirt to give one lucky winner from each of our blogs! Yay, Doug!!