My class is batty for… well… bats!
Ever since I started decorating for Halloween, one of my little boys has been begging me to make bats. His idea spread like wildfire, and before I knew it, I had a whole class of firsties asking me everyday when we were making them!
I couldn't disappoint, so I pulled out an old bat pattern, spruced it up a bit, and threw together a few worksheets to go with it. Here's one of the completed projects: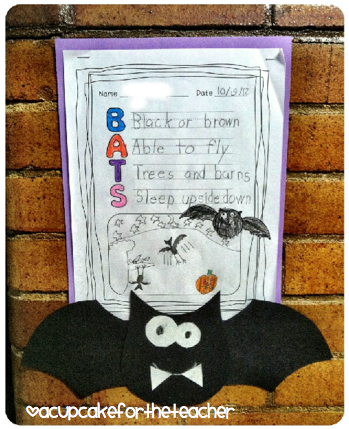 My batty display in the hallway:
The title says, "We're Batty About 1st Grade!"
If you have a mob of young ones begging you to make bats, or if you just feel like getting a little batty yourself, then be sure to pick up this little freebie from my TpT shop:
*bat pattern, pics, & directions
*"We're Batty About __" titles for:
Pre-K, Kinder, 1st, 2nd, 3rd, & 4th
Last but not least, here is a pic of a bat display I did a few years back:
As always, please let me know what you think! Especially if you grab a copy 🙂
I hope you love, love it!!